Delete One E-list Member via Email Commands (Lyris)
---
Only list administrators may delete (also called remove and unsubscribe) members other than themselves from an e-list.
To delete one member, send an email message to
listname-request@cornell.edu  
where listname is the name of the list including the hyphen and the letter L at the end of the list name.
Your message needs three lines of text, based on the following syntax:
login password
delete emailaddress
end
where
password is your password as administrator of the e-list
emailaddress is the full address of the member being removed
Here's an example: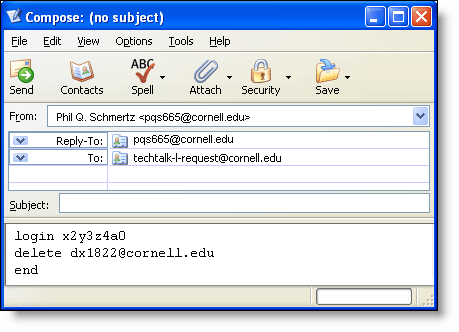 Optional: To remove this address without having Lyris send a "you have been unsubscribed" message to the former member, put the word "quiet" (no quotation marks) at the end of the "delete" line.