Longview Known Issue: Longview Error When Opening Non-Longview Excel File
---
Behavior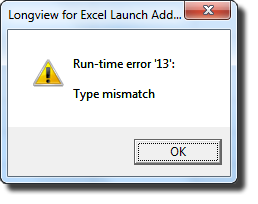 User opens an Excel file received via email or from a location on one of Cornell's networks by double-clicking the file. Longview for Excel error pops up after the user clicks "Enable Editing" in the newly-opened Excel file.
Workarounds
Click through the Longview for Excel error message and continue working with no impact.
Copy the Excel file to a local drive by choosing Save As (rather than double-clicking), then open the file. Subsequent usage of the file will not generate the error.
Explanation
This is caused by MS Excel's restrictive Trust Center settings. This is a good thing. Cornell's IT Security Office has evaluated the option of relaxing Excel's Trust Center settings and not approved this action. Please do not relax Excel's Trust Center settings.