Email Error: "Meeting Out of Date"
---
Office 365 users report seeing repeated notices of "Your meeting was found to be out of date and has been automatically updated."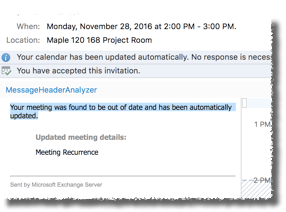 This message usually appears when a user accepts a meeting invitation on an iOS device.
Our recommendation is that mobile devices are best used for viewing calendars; creating events and accepting or declining invitations is best done on your Mac or Windows computer.
If the meeting appears on your calendar at the proper time, don't worry about this message.