Align an Image
Access Restricted. How to align an image left or right and wrap nearby text around it. How to add a caption to an image and how to troubleshoot caption layout.
---
Use the Figure Style to Align an Image
Enter the text on your page.
Add an image to your page.
Images aligned using the figure style take up about 40% of the page width. 400 pixels is a good width. Learn more about
best practices for image size
.
Decide whether you want a caption for your image.
If desired, add caption text directly after the image.
Best Practice for Accessibility:
Make sure the caption text is
not
the same as the image's
Alt Text
.
The caption text must be in the same paragraph as the image before applying the Figure style.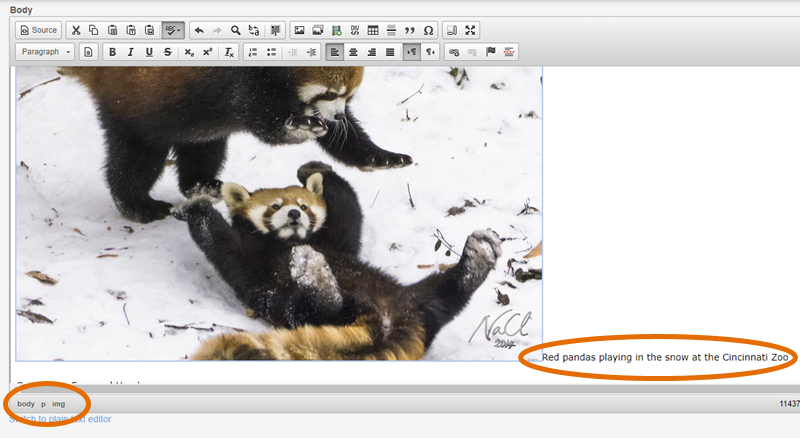 If you don't want a caption, make sure the image has no text in its paragraph tag.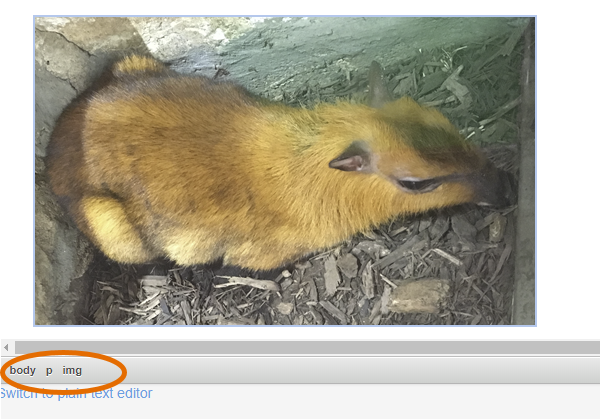 If your text is in the same paragraph tag as the image, Drupal will set that text as the caption when you apply the
Figure
style. To remove unwanted text from the caption, see
Troubleshooting Captions
.
Under the

Styles

drop down, select Figure: Left or Figure: Right as desired.

You can use the plain
Figure
style (not left or right) for full-width images. However, you only need the plain
Figure
style if you want a caption or gray shading around your image.
For most full-width images, just
insert them
using the
Add Media
button and don't apply the plain 
Figure
style.
Troubleshooting Captions
Article Text Got Caught in the Picture's Caption
Example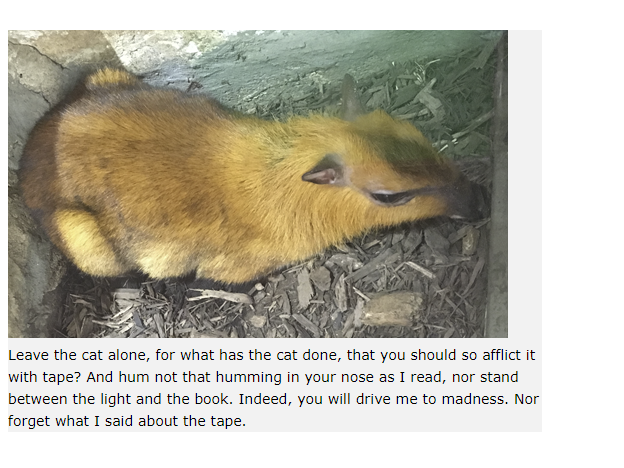 To fix this
Select the Source button.
Navigate to the figure where the article text is displayed incorrectly.
Use a page search (CTRL or CMD F) for <figure to quickly find the image's figure tag.
Cut the text out of the figure tag.

Select the Source button again to return to CK Editor.
Paste the text above or below the image, as desired.
Corrected Example:

Text excerpt from Laws Concerning Food and Drink; Household Principles; Lamentations of the Father by Ian Frazier.
Caption Text Does Not Wrap Properly
If you entered a caption and the text is not wrapping properly, hit the Enter key at the beginning of the caption text.
Bad wrap: caption is still on the side.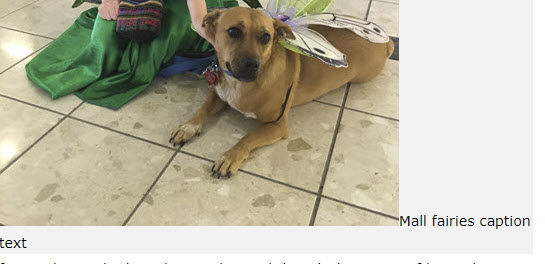 Good wrap: after hitting the Enter key, the caption has moved below the image.