Basic Information About Bomgar
This article is intended for the person who contacted their technical support provider (TSP) about an issue with their computer, and who has been asked to allow the TSP remote access to their computer. Here we'll try to anticipate your questions about what using remote assistance means.
This article applies to: Bomgar
---
During a support session, your TSP will be able to see everything that you see on your monitors. Before you accept the invitation to share, we strongly recommend that you close any documents or applications that contain or display confidential information. We also recommend that you close all documents and applications that display personal information, or that are not related to the issue at hand.
When you accept an invitation from your TSP, you'll be prompted to download and run a small application that lets the TSP
see exactly what you see on your monitor(s),
share control of your cursor (you continue to have control as well), and
share control of your keyboard (you continue to have control as well).
For details on this process, see our Accept a Bomgar Invitation article.
When the TSP shares control of your mouse or keyboard, they are able to work with your computer as if they were sitting in front of it.
The TSP cannot do anything "secretly" or look at anything "secretly." You'll see what they are doing. There are a few things the TSP can do that may not be obvious to you, but they can't do them until you accept their request in the Bomgar chat window. These activities include
viewing system information (for example, what version of Windows or macOS you're using, how much memory your computer has, etc.)
transferring files to or from your computer
using the command shell (also known as the "C prompt" on Windows, and "Terminal" on Macs)
using an administrative account on your computer (often required to install software or change system settings)
The TSP will typically remain on the phone with you, or chat with you through the chat window.
If you move your mouse or use your keyboard, your actions will interrupt the TSP's actions. We recommend that you NOT use your mouse or keyboard unless the TSP asks you to. For example, the TSP may open an application that requires you to log in. The TSP would ask you to enter your password. In this example, the TSP would NOT be able to see what you typed, they would only see the line of dots or asterisks that show on the monitor.
At any time, you can end the session by clicking STOP SHARING near the top of the chat window.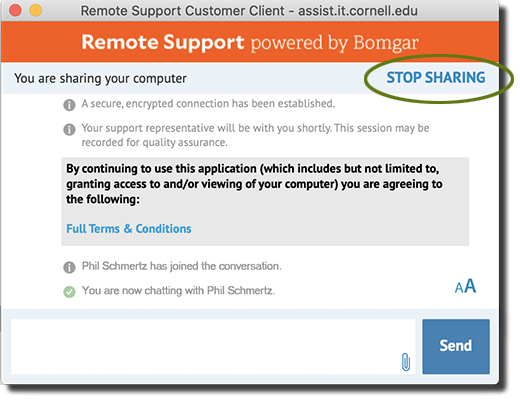 When the session ends, the application you downloaded is removed from your computer, and neither the TSP (nor anyone else) can re-connect to your computer later.